At the recent Cosmoverse conference, Cosmos released a white paper with a new issuance model for ATOM which aims to revamp the Cosmos Hub.
While the Cosmos ATOM 2.0 white paper garnered a stupendous audience was it merely a "Sell the News" event?
The Cosmos Hub 2.0 white paper charts an updated role for the Cosmos Hub as the center of interchain security while also proposing key changes to ATOM's utility and issuance schedule. 
Cosmos also plans to make alterations to its liquid staking protocol, where only a fixed amount of ATOM would be issued per month.
Additionally, governance will also undergo key changes, and a governing body called "Cosmos Assembly" would be created soon enough. 
Social volumes spikes, development activity slumps
The Cosmos ATOM 2.0 white paper while bringing fundamental changes to the blockchain and the ecosystem has also garnered decent social media attention, especially on crypto Twitter. 
Social volumes noted a healthy uptick after the announcement, however, social and retail euphoria like that seen in July is still missing. 
Furthermore, Cosmos's development activity appeared to slow down as the Cosmoverse Conference anticipation came to an end. The sudden drop in development activity could hinder the larger price growth as well, going forward. 
ATOM dominating Layer 1 rivals
Amid the macro bear market, major Layer 1s are still being battered, but ATOM has, surprisingly, managed to stay afloat. When comparing major L1s to their previous ATHs in Nov. 2021, the majority of the tokens are deep in negative territory. 
ATOM, too, is down 71.33% from its all-time high price, oscillating around $12.76 at press time. Nonetheless, ATOM has gained more than 95% in the last three months, outperforming most L1s like MATIC, AVAX, BNB, and even ETH.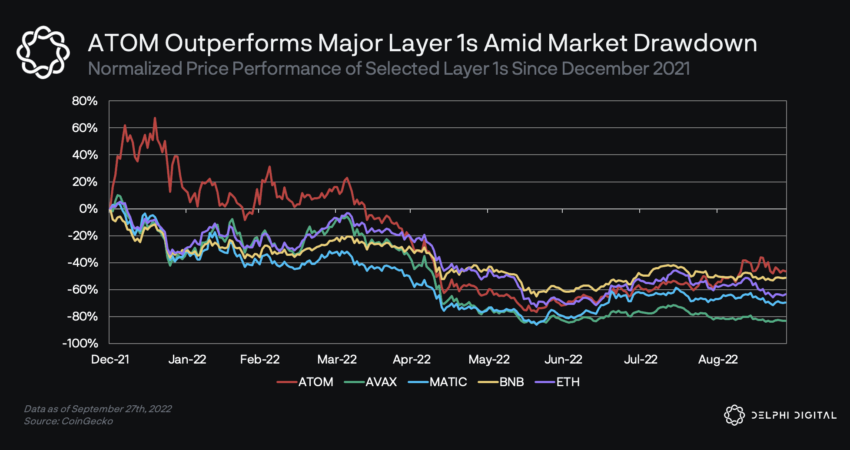 ATOM's relative outperformance can be attributed, partly attributed to the announcement of Cosmos 2.0, as well as the build-up to the annual Cosmos conference which took place on Sept. 27. 
Until Sept. 27, more than 66% of all ATOM was staked or delegated to validators, which further aims to keep the Cosmos infrastructure strong. 
ATOM/USDT trading pair still struggling 
The reveal of the new white paper was expected to bring some considerable price changes in the positive direction. However, seemingly the Cosmoverse conference couldn't ramp up price action with ATOM losing over 12% price at press time on a daily chart.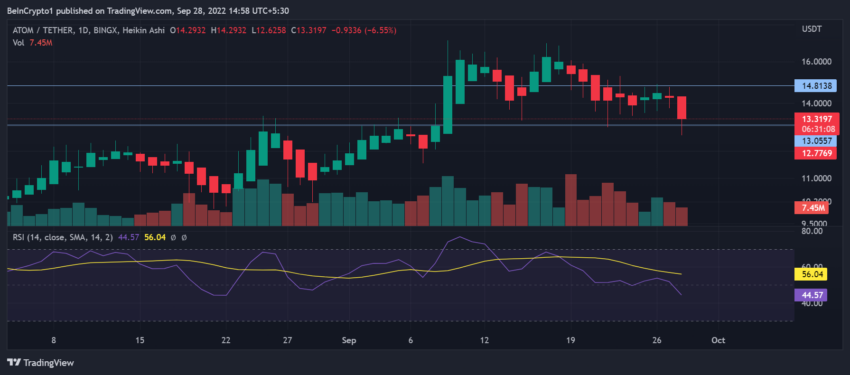 A significant drop in ATOM's daily RSI was indicative of higher sell-side pressure as the social anticipation faded away. The altcoin would need some aid from bulls to establish above the $13 resistance level. 
Price time price action presented bearishness for the token. Further sell-offs could pull ATOM's price back to the $12 zone.
Disclaimer
All the information contained on our website is published in good faith and for general information purposes only. Any action the reader takes upon the information found on our website is strictly at their own risk.